• INFO - single independent complete information on your web site. It could be an article, a picture, a table, or a combination of the tree. There are two ways to display an info - as INFO LINK or as INFO COMPLETE.
• CONTENT- the body of the INFO. This is the very text, table or picture that is put into the INFO - the filling of the INFO.
• TITLE- the title of the INFO is the title of the information contained in the info.
• SUBTITLE - a short resume of the INFO. It could contain text and pictures.
• INFO LINK - an INFO which is displayed as a link only, and in order to be viewed the link should be followed. Usually this is the TITLE and the SUBTITLE of the INFO, which lead to the INFO COMPLETE.
• INFO COMPLETE- a fully displayed INFO. Usually the TITLE and the CONTENT of the info are displayed.
• SECTION - a part of the web site in which similar INFOs are gathered and displayed to the visitor. For example "Home" or "About us" are two different sections.
• SECTION LINK - it speaks for itself - this is a link to a section. For example, a section link is every link of the main menu.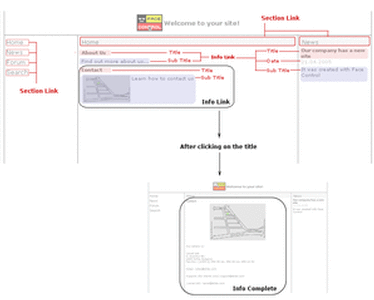 click on picture to enlarge